15 Trustworthy Fashion China Wholesale Clothing Suppliers and Vendors
Do you want to source high-quality and cheap fashion wholesale clothing from China? Are you looking for the best fashion wholesale clothing suppliers from China? If you are doing a fashion clothing business and want to make huge profits, sourcing and ordering clothes in bulk from China is definitely the right choice.
You don't have to go to China in person, just finish everything online.
In this article, we will offer a list of the top 15 trustworthy fashion wholesale websites for buying clothes in bulk from China. We'll also tell you how to work with Chinese wholesale clothing suppliers.
Let's dive in.
Why Wholesale Clothing from China?
You need to understand that there are a lot of wholesale clothing options no matter where you are. However, always necessary for a businessman to make the greatest profits to achieve his goal.
Purchasing from China, you can enjoy a big marketplace of Asian fashion wholesale, which is a great way for you to buy clothes wholesale for your business. The reason why the Chinese market has a great advantage is that it has a world leading supply chain. For example, the famous clothing brand, Shein, really benefits a lot from chinese leading clothing supply chain.
Here are some advantages that you can benefit from buying your wholesale clothing from Chinese vendors.
1. Competitive Pricing
China is the world's manufacturing factory, and in the past, people have often associated goods made in China with being cheap. But today, this problem no longer exists, and China has led the world in apparel production technology. Factory production costs can be constantly driven down, and many Chinese wholesale clothing platforms today still offer clothing for as little as $7-$15, giving you better profit margins.
China's world-leading logistics industry has helped its online marketplace continue to grow, which has given buyers more options for transparent pricing.
Compare this to U.S. wholesale sites where most apparel is priced at $60 or more.
2. High-Quality Apparel
It is also true that wholesale clothing from China is often tied to low quality. But not all Chinese clothing is like that. In fact, there are a very large number of bulk wholesale clothing suppliers in China that produce high quality wholesale apparel. Many luxury brands, such as Gucci, Givenchy, etc., have set up factories in China.
Therefore, it is not difficult to buy low cost and high quality wholesale chinese clothing for women as long as you can find the right quality suppliers. Some quality clothing suppliers will also be recommended in this article.
3. Excellent Response Time
The rate of clothing production in China is phenomenal.A typical fashion supply chain process includes group inventory planning, design development, wholesale channel merchants, sourcing production and logistics retail. If the supply cycle can be shortened, it means that the time from planning to sale of fashion exhibits to the final customer is shortened.
For example, in China sourcing clothes 7-15 days from show to production of a finished, saleable garment. This occupies a very significant advantage over the short time of one month to six months for US-based apparel suppliers.
4. Amazing Trend Insight
If you walk through a wholesale clothing market in the United States, you may pass by ten stores and all you see are similar clothes. But in China, this definitely does not happen. This is due to China's extraordinary speed of clothing renewal and its ability to respond quickly to trends. On some famous wholesale clothing websites, the daily update rate can even reach 800.

5. Extremely Wide Range of Clothing Items
What's more, there are many wholesale Chinese women's clothing combines bone numerous inspirations from fashion magazines and fashion shows. You will be amazed at the variety of styles you can find, especially for women's clothing. A large number of Chinese wholesale websites have women's clothing added at a rate of hundreds of new clothing per day.
And as said before, the local boutiques always buy similar uninteresting wholesale chinese clothing. There is not much difference between you shopping in 1 boutique or 10 boutiques.
Here are some ways to help you if you are looking for wholesale clothing vendors in China.
1. Online Wholesale Clothing Websites in China
2. Offline Wholesale Clothing Marketplaces in China
3. Wholesale Directories
4. Wholesale Trade Shows / Garment Events & Conferences in China
5. Sourcing Agents in China
6. LinkedIn
7. Facebook Groups
8. Independent Designers in China
9. Online Forum or Q&A Platform
10. Cooperation with Chinese Clothing Manufacturers
Related Reading: How to Find Wholesale Clothing Suppliers for A Boutique
Before you start to buy wholesale clothing from China, finding reliable wholesale clothing suppliers is the most important thing. But how to find a wholesale clothing supplier from China?
Don't worry.
We have picked out best 15 trustworthy wholesale clothing suppliers and vendors for you. With our recommendations for china wholesale clothing, you can easily start your clothing business from China without heading to China for long distances. It's a great risk to buy bulk clothing you haven't seen in real.
1. Alibaba
Founded in 1999, Alibaba International has become the world's leading digital offshore service platform. It provides a series of diversified services for SMEs in the whole chain of going abroad, from business opportunities to logistics, financial flows, and compliance operations.
Pros:Alibaba is very well-known internationally and you can see its presence on many advertisements. Also, you can find it in many mainstream offline exhibitions.Alibaba can also provide very good customer service, not only regular industry knowledge salon will also have related courses.
Cons:The customer response rate is very low and the quality of suppliers is uneven. The platform itself does not review the quality of suppliers, and as long as the money is paid, they can be ranked on the recommendation page of the website, which cannot guarantee the quality.
2. Made in China
Made-in-China is a leading B2B e-commerce website where you can not only find many other categories of wholesale clothing but also buy fantastic China wholesale clothing.Made-in-China is committed to exploring global business opportunities for Chinese suppliers and overseas buyers and providing one-stop foreign trade services for both sides to reach international trade.
Pros:Made in China also has a high reputation, and the ranking of wholesale clothing on this platform is sorted by customer reviews, which can truly reflect the quality of clothing.
Cons:Clothes Vendors within the site can rely on paying fees to get higher rankings, which do not give a true picture of the quality of the goods.
3. YiwuGo
YiwuGo offers e-commerce services with the characteristics of a physical market to market operators and international purchasers from Chian. Operators can use the platform for store management, commodities display, online transactions, foreign trade warnings, business exchanges, and other activities. The three main procurement guarantees—price integrity, quality integrity, and service integrity—are available to you.
Pros:YiwuGo the world's largest physical market -wholesale commodity market online, unique store 360 ° panoramic display, so that people immerse themselves in the market; store goods and the physical market one by one, to create online and offline linkage of the integrity of the transaction protection system, so that every transaction has integrity protection.
Cons:Some suppliers do not speak English and may encounter barriers when communicating with them.
4. Global Sources
Global Sources is the leading international multi-channel B2B marketplace and sourcing platform from China, connecting real buyers with verified wholesale suppliers and manufacturers around the world. The brand is well-known and can be seen in major exhibitions around the world. It is also very easy to complete orders at offline exhibitions.
Pros: The brand is well-known and can be seen in major exhibitions around the world. It is also very easy to complete orders at offline exhibitions.
Cons:Although there is an online site set up, Global Sources' online site requires a fee to become a member. The conversion rate of customers on the website is also very low.The brand's online site is not well done .It is difficult for even experienced buyers to successfully complete the transaction.
5. Chinavasion
Chinavasion is a China wholesale website with no MOQ but great discounts on wholesale and bulk orders. What can you buy from Chinavasion? You can find many different products, but the platform mainly focuses on technology and electronic products and accessories.
Pros:On Chinavasion, you can complete a secure payment by using PayPal. Alternatively, you can simply pay online with your credit or debit card.
Cons:Despite having a website set up, Global Sources' online site charges a membership fee. The website's conversion rate for customers is likewise relatively low. The brand's internet presence is poorly designed. Even seasoned purchasers find it challenging to execute the transaction successfully.
6. DHgate
DHgate's foreign trade platform is the world's leading cross-border e-commerce foreign trade trading platform from China, with online trading as the core B2B small-scale foreign trade wholesale platform, selling Chinese wholesale clothing to the world through cross-border e-commerce platforms.
Pros:This site has convenient global logistics. And this platform offers corresponding credit services to help merchants ease the flow of funds.
Cons:As with all wholesaler platforms, not all sellers on DHgate are trustworthy. Some inferior buyers may often experience shipping delays. It is also important to note before placing an order that not all items listed on DHgate have a free shipping option.
7. AliExpress
AliExpress is Alibaba's cross-border e-commerce platform built for the international market. Global Express is open to overseas buyer customers, with guaranteed transactions through Alipay international accounts and shipping using international logistics channels.
Pros:Clothes Vendors on this platform have a better understanding of English and there are no barriers to communication.Although AliExpress is usually in the retail business, it is still possible to buy from them at wholesale prices.And the wholesale clothing offered on the site are of high quality.
Cons:On this site you may encounter middlemen, i.e. people disguised as clothing manufacturers.
8. Chinagoods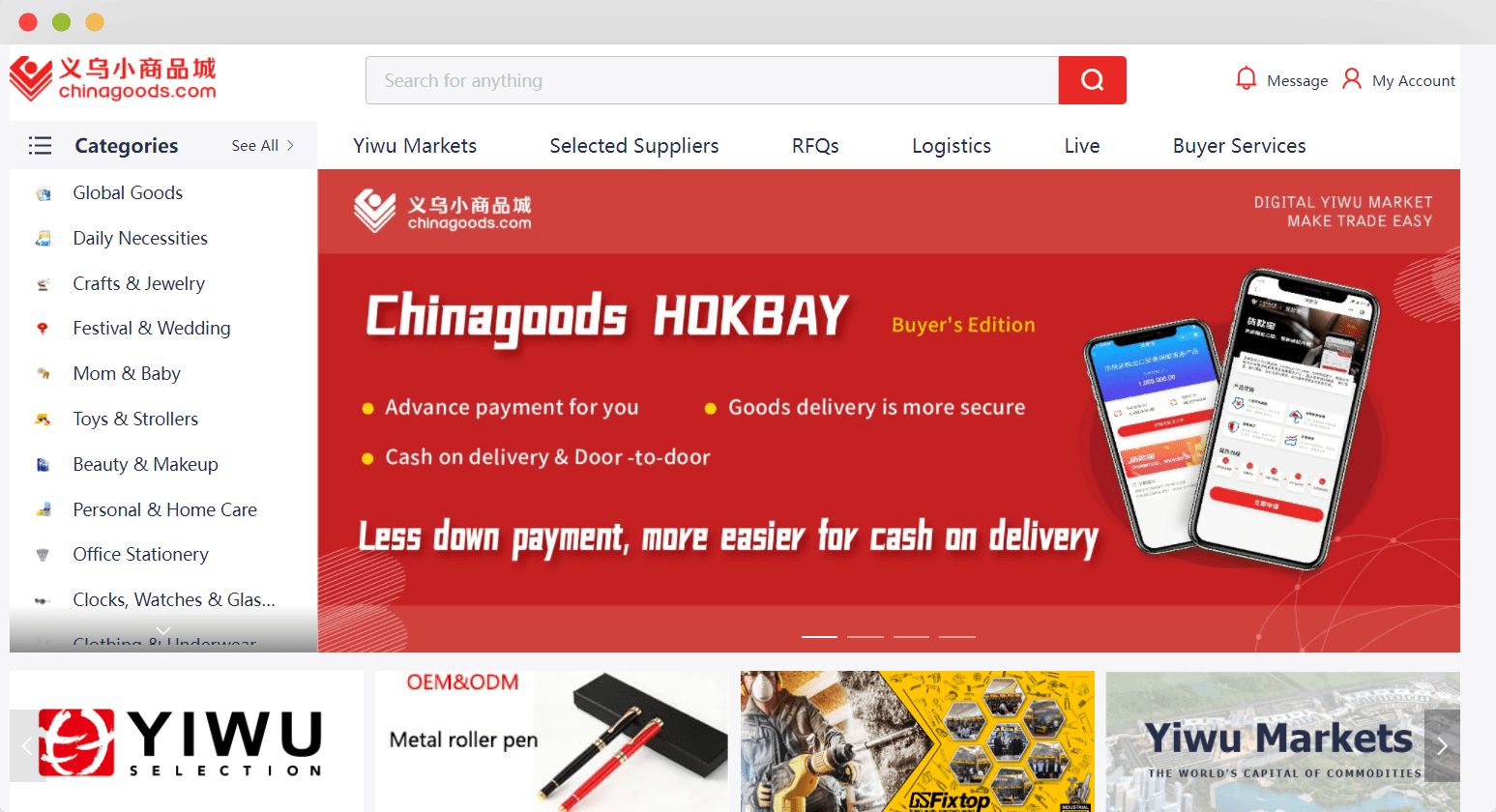 Chinagoods is one of the best China wholesale websites you can find since it displays tons of products you can find on different Yiwu markets.
Pros:On Chinagoods, you can find products in niches like jewelry, clothing, mom and baby, basic needs products, beauty and makeup, automotive, pets, sports and outdoors, and practically anything else you can think of.
Cons:Communication issues may arise when dealing with clothing vendors who do not speak English.
9. Zaful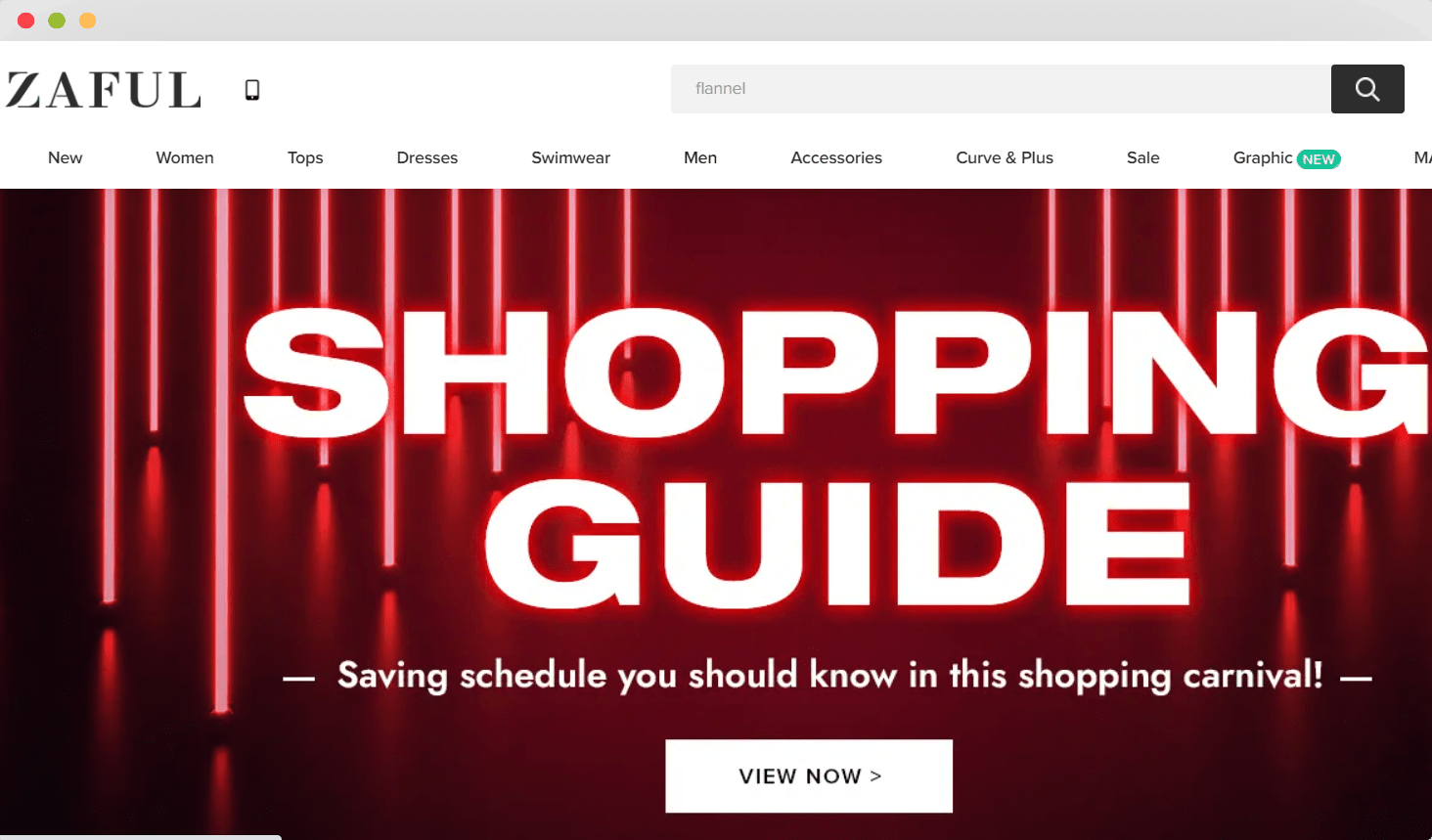 Zaful is one of the most well-known online shopping marketplaces in the world of women's and men's fashion and clothing. On Zaful, you can find tons of product categories like dresses, tops, swimwear, accessories, plus-size clothing, and even Marvel-themed merchandise.
Pros:Zaful have a great app that you can use for a more convenient shopping experience.
Cons:The brand's Internet presence was poorly designed. Even experienced buyers find it challenging to successfully execute transactions.
10. CJDropshipping
The CJDropshipping app enjoys a high user rating and great reviews on the Shopify App Store. They're a trusted dropshipping fulfillment supplier company that offers tons of products to choose from in all types of niches.With CJDropshipping, you have no minimum order quantities, so you can feel free to place small orders and bulk ones. And best of all, they have many warehouses worldwide, allowing you to keep your inventory close to your customers and shorten the delivery time.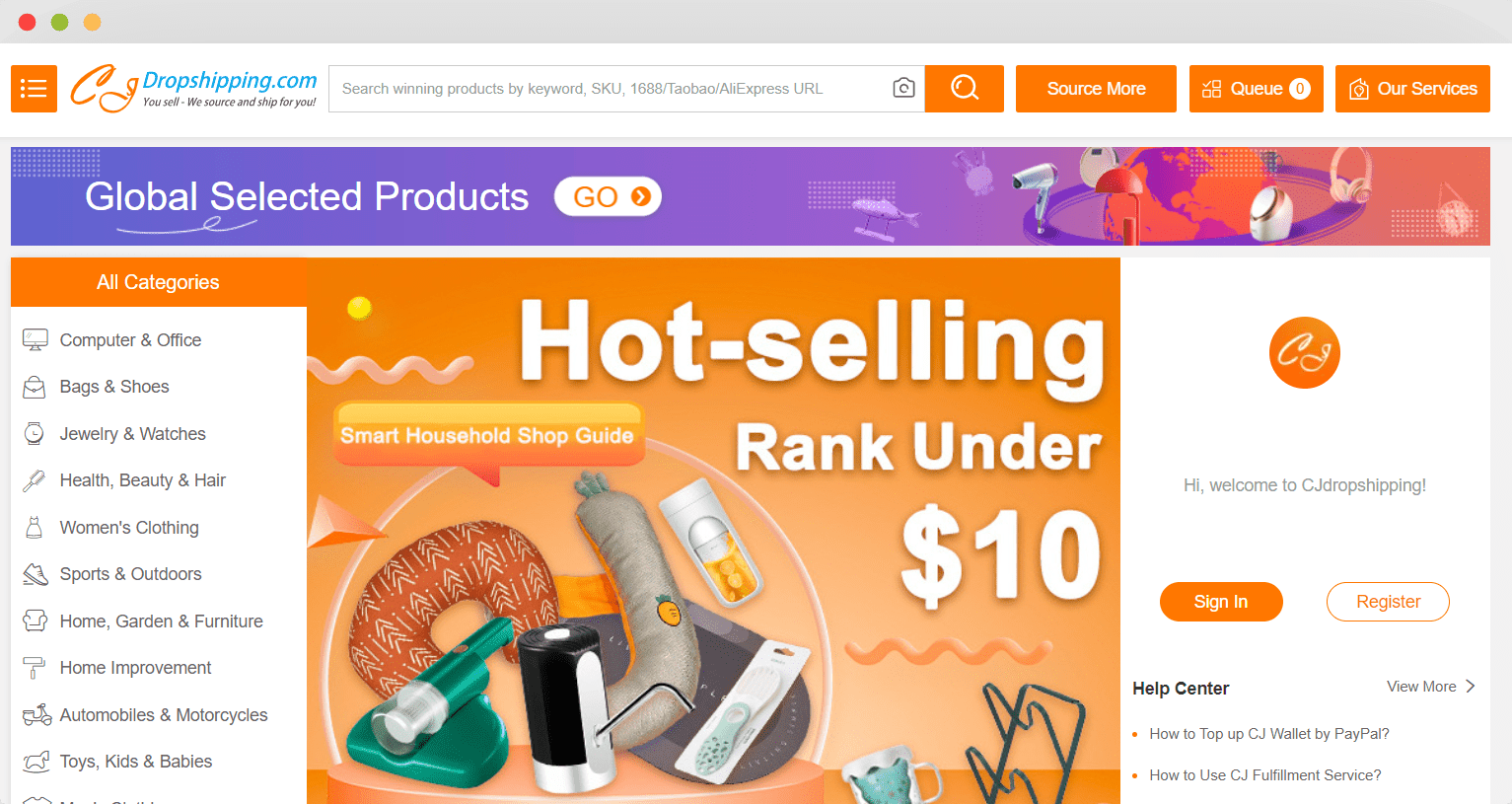 Pros: CJDropshipping integrates with any eCommerce builder as well as platforms like eBay and Etsy. That means that you can list CJDropshipping products automatically to your shop.
Cons:The brand's Internet presence was poorly designed. Even experienced buyers find it challenging to successfully execute transactions.
11. TBdress
As the name suggests, TBdress is a marketplace specializing in women's clothing, especially dresses of all types and sizes, including wedding dresses. Although TBdress primarily focuses on dresses, you can also find accessories, shoes, men's clothing, etc. It's also worth noting that TBdress has a great app you can use. So, all in all, if you're in the women's fashion and apparel niche, give them a try.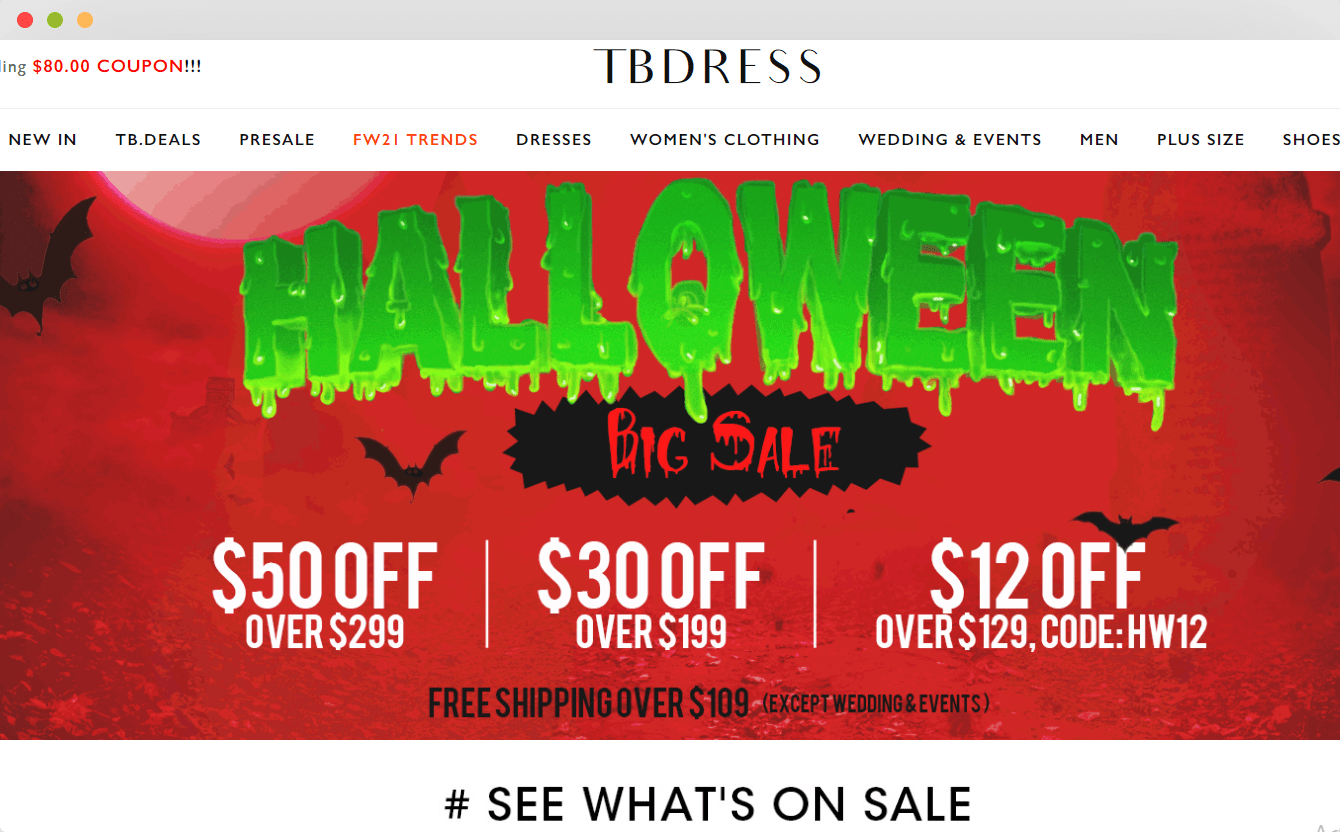 Pros:TBdress is friendly for dropshippers who place single item orders, but they also offer discounts for wholesale purchases over $2000.
Cons:You can't discover the garments you desire easily because the costs are greater and the categories are much more general than on other wholesale apparel platforms in China.
12.

Bandgood
Stick Valley Technology insists on being customer demand-led, focusing on core categories, developing new wholesale clothing, building quality brands, and continuously providing customers with a personalized, beyond-expectation shopping experience. The company currently has more than 300,000 products in 25 categories on sale and has established stable and sustainable relationships with many well-known brands and more than 300,000 suppliers at home and abroad.
Pros:Banggood is a B2B platform that offers high quality China wholesale fashion clothing items at low prices.The entire Banggood team is dedicated to providing their consumers with low cost and high quality wholesale clothing - making them the ideal wholesale China clothing supplier.
Cons:Mainly selling electronic and hardware products, wholesale clothing accounted for a relatively small proportion. It takes a longer time to select clothing.
13. LightInTheBox
LightInTheBox is an online business-to-customer internet cross-border e-commerce company. It is also a professional and reliable online shopping center that offers a wide range of hot clothing at reasonable prices and ships worldwide.
Pros:A reputable and expert online retailer offering a selection of top-selling items at competitive rates and worldwide shipping.
Cons:This platform has fewer suppliers in residence, and there are not many types of clothing to choose from.
14. Tomtop
Tomtop is a cross-border e-commerce company from China dedicated to bringing China's quality supply chain products to the world, bringing global quality branded goods back to China, selling each other's quality clothing worldwide, creating the ultimate cross-border shopping experience, allowing global consumers to share quality clothing and enjoy a high quality of life!
Pros:Tomtop is a trusted wholesale and online retail store with a wide variety of high quality merchandise that you can buy online at the best prices.
Cons:Items are subject to a minimum order quantity and cannot be shipped together from various suppliers.
FondMart is a B2B 100% factory wholesale clothing platform,provide customers with a one-stop inventory of wholesale clothing. Both clothing wholesalers and retailers will be able to find quality suppliers that suit their needs. Over the years, FondMart has built strong relationships with many reliable clothing suppliers. FondMart serves more than 51,000 brands and over 500 wholesale clothing vendors in china. There is no minimum order size for customers, regardless of which supplier they choose to buy from.
Pros:Always putting quality first, FondMart offers a wide range of wholesale clothing that are both good and affordable. The quality of its wholesale clothing and its advantageous low prices have won high praise from its customers. Not only that, but FondMart also offers a free quality check before delivery and the service of taking real photos before delivery.
Cons:This platform currently has no suppliers from the United States.
There are more than 10,000 wholesale apparel suppliers in China, but the quality of these suppliers varies. In order to help customers select better quality suppliers, FondMart has set strict selection criteria. We also rank our wholesale clothing vendors based on customer satisfaction. You can easily determine if a supplier meets your expectations by using labels and star ratings.
At FondMart, we pick up wholesale clothing vendors based on strict criteria:
·Experience - The FondMart firstly selects suppliers by whether they have cross-border and brand experience, secondly, whether they can provide actual model pictures, and finally, whether they can develop styles independently, you can also select through our featured filtering options.
·Factory Size -The most powerful suppliers in China are concentrated in Hangzhou, Guangzhou, Fujian, and other places. The FondMart selects the best quality garment suppliers in these gathering places of China's garment industry.
·Product Quality Control - The quality inspection of products is divided into preliminary inspection and random inspection. After the suppliers pass the preliminary inspection, the FondMart randomly inspects part of the garments and evaluates the garments according to multiple dimensions such as fabric, pattern, and process.
·Vendors Management - The FondMart will do a comprehensive quality assessment according to the source and customer evaluation to ensure that the best quality goods are left.
At FondMart, we rate our wholesale clothing vendors in strict criteria as well:
1. Vendors Grading
According to the comprehensive evaluation of multiple dimensions, suppliers are classified into five grades from T0-T5.
2. Tracking and Inspection of New Products
The FondMart will carry out commodity inspection through different frequencies according to the supplier's grade.
3. Comprehensive Analysis and Response Processing
If the vendor's delivery time does not meet the requirements or fails in the product sampling. FondMart will cancel the cooperation with these suppliers before the customer.
How to Find the Suitable Supplier at FondMart?
Of course, you can choose the suitlable clothing suppliers for your business independently according to your needs. Below I will provide you with 4 different ways to find suppliers at FondMart.
1.All Vendor List
Step1: Find the tab at the top of the site's home page and click it.
Step2: You can find a variety of different styles of clothing vendors under this page,select the tags you are interested in to filter.
2.Selected Vendors
If you want to choose by the style of dress that the supplier is good at, such as professional, sexy, bohemian, etc. You can click on Select Supplier so you can see all the most popular styles of the moment.
step1: Find the selected vendors tab on the home page of the site.
step2: Pick your supplier by the style you like.
3. Premium Vendors
Premium suppliers are a special part of FondMart. If you are picking up clothes for a boutique, your primary goal is to get some high quality clothing. Then I recommend you to go under this section to find the right supplier. In this section, we list the highest quality suppliers on the platform.
4. Category Pages
If you are first attracted to the page of the product, then you can find the vendor as well. We have placed it in the bottom left corner.
Step1: If you want to pick a supplier of women clothing or plus size , you can access it through the navigation tab of the website.
Step2: You can find your favorite category in the category bar on the left.
If you also have a need for price, you can also filter by price on the left. Of course, in the category bar on the left there are also multiple clock options such as product type, color, and Stock Condition.
Step3: Click Vendors & Brouse Products
After setting your filter criteria, you will be able to find the supplier's name in the bottom left corner of the product page.
1. Ask about MOQ
The term "MOQ" refers to the smallest number of units a manufacturer will accept for a production order. For instance, if a garment manufacturer has a MOQ of 50 pieces per style, you would need to place an order for at least 50 of that styles to satisfy the MOQ criteria of a supplier for a single manufacturing run. Be sure to ask the MOQ before wholesaling clothing, otherwise, you may not be able to place an order because the order is too small. If you place an order on FondMart, then you don't have to consider this problem, because the clothing on FondMart are all NO MOQ.
2. Ask about Shipping Costs
Many customers only pay attention to product prices and ignore shipping costs, but in fact, shipping costs are not low, especially for customers with smaller orders. The shipping costs for buying clothing from different wholesalers vary greatly, because some suppliers have cooperative logistics platforms, just like FondMart cooperates with multiple international logistics companies, then the shipping costs will be cheaper. If you don't ask about shipping costs in advance, you'll be embarrassed when you place an order and find out about the high shipping costs.
3. Ask about Return Policy
When importing China wholesale clothing, the return policy is very important because it protects your rights. If the garment you received does not match what you ordered or has a quality problem, you should request a return. Generally, the return policy period is 30 days.
Because the picture of the product doesn't exactly match the actual product, returns often happen and it's not your problem. You should choose a vendor that supports a return policy to avoid losing money.
4. Ask about Samples
Product images are very deceptive, so if you start your order with just one product image, you are likely to lose money.If you are ordering from a supplier for the first time, you should ask him for samples first, and you can better judge whether to carry out follow-up cooperation through the quality of the samples.
Experienced suppliers will accept your request as it is very common. And if the supplier seems hesitant or outright rejects your request when you mention this, then you should seriously consider whether to cooperate.
5. Ask about Discount
Ask about the cost of the goods while haggling with any Chinese wholesale clothing suppliers.
You will be in a better position to place a profitable order once you have inquired. Bargaining is a further crucial element. Asking for a reduction in the price of something you're about to buy is practice time of haggling.
From a professional aspect, there is a focus on lowering the price so that you may earn more. Don't forget to take this into account before importing wholesale Chinese trendy clothing.
6. Ask about Clothes Quality
One of the most important factors to consider is product quality. China has clothing of various quality levels. Of course, your money will get you excellent quality. Others overprice low-quality clothing, and ignorant customers continue to buy. As a result, it is also a category of disadvantages.
Find suppliers who sell high-quality products at reasonable prices. The manufacturer must also be reputable. Otherwise, you're taking a big risk. Furthermore, the chances of receiving subpar products are high. The majority of reputable cloth manufacturers have their own catalogs. These have high-resolution images.
7. Ask

about

Market Reputation
In business, you don't just partner with anyone. Make certain that your partner is trustworthy and reputable. We understand that businesses, like people, make mistakes.If they are reasonable, anyone who reads a negative review will understand. Others, on the other hand, are unconcerned about how they run their businesses. Before proceeding, conduct additional research and due diligence.
Before contracting with a supplier, learn and understand them thoroughly. The vast majority of clothing wholesalers have websites or online storefronts. To be safe, examine customer reviews and ratings.
8. Ask about Packaging
If you want to sell your own branded clothing, you'll need to check with your supplier to see if they support branded labels, which are now available for certain styles of clothing, albeit in small quantities.
9. Ask about Lead Time
The lead time of an item is the time it takes from ordering to delivery. Shorter lead times, like minimum order quantities, mean you get products sooner. Items are also added to the inventory more quickly. It may aid in the faster delivery of orders placed to customers.
10. Ask about Dropshipping Option
You can gain much from operating an online business. Dropshipping services are affordable to utilize. You may avoid the hassle of stocking and shipping clothes by dropshipping.
Purchase a few items of clothing that you intend to sell. Examine the packing and quality. The two could work with you as business partners if their needs are met.
1. How Do I Correctly Describe the Size Required in Order on a Chinese Wholesale Website?
Asian clothing sizes tend to be different from American or European ones, they tend to be on the smaller side, remember to check your size with your China wholesale clothing vendors. If you would like to know more about specific sizing you can refer to these size guides.
2. How to Sell Chinese Fashion Clothing Online without Buying Wholesale?
Dropshipping is a type of business model which enables a company to operate without maintaining inventory, owning a warehouse to store their products, or even having to ship their products to their customers themselves.You just need to take the order, and then hand it over to the appropriate supplier for shipment.If you want to try this , FondMart also offers this service.
3. How to Import Fashion Wholesale Clothing from China?
Importing wholesale fashion clothing from China requires attention to the following points.
-Follow the customs policy
-Understand customs duties & taxes
-Obtain a license
-China allows bargaining
-Inquire about starting order quantity
4. Why Are Wholesale Clothes so Cheap in China?
China has advantages over its other labor-rich countries, such as lower labor costs, but better infrastructure. China's wholesale apparel production chain is very well developed and this efficient production method has helped suppliers keep prices down while ensuring quality.
5. What are the most popular Chinese fashion wholesale websites for boutique shops?
FondMart is a 100% factory wholesale clothing platform where you can find all the types of clothing you want as well as the latest trendy elements of clothing.
6. How Long Does It Take to Clear Customs for Wholesale Clothing from China?
3-15 days. In general, the customs clearance time for general cargoes is within 3-15 working days, which may vary slightly depending on the season.
7. What Is the Price Range for Wholesale Women's Clothing from China?
There is a big difference from one garment to another, with summer garments generally ranging from $2 to $10 and winter ones generally ranging from $15 to $50.
8. How to Import China Wholesale Clothing?
Fashion wholesale clothing is a profitable business. However, you may need to do your homework and research first. Here are some precautions to take before importing from China.
1. Research the Import Rules and Regulations

2. provide information to assist the courier company with customs clearance
3. Look for a Reliable Clothing Supplier
4. Bargain on Clothing Prices
5.Obtain Clothing Samples
6. Employ a Skilled Agent
9. What are the Most Popular offline Clothing Markets in China?
Hangzhou and Guangzhou are very representative places for women's wholesale clothing in China, here are the recommended offline markets.
· Hangzhou China Silk City - Hangzhou is one of the famous places for raw silk production and silk processing, which guarantees the quality of silk clothing.
Address:No.273, Fengqi Road, Xiacheng District, Hangzhou, Zhejiang, China
· Hangzhou Four Seasons Green Garment Market-This market mainly deals with wholesale business (more than 80%), and the categories have covered all types of garments. In this market, you can easily find the type you like.
Address:No.88, Hanghai Road, Jianggan District, Hangzhou, Zhejiang Province
· Guangzhou White Horse Clothing - This clothing market mainly sells high-end mature women's clothing, and the price will be higher than the same type of clothing in other wholesale markets.
Address:No.16, Zhan Nan Road, Yuexiu District, Guangzhou
· Guangzhou Thirteen Houses Wholesale Clothing Market - Over 95% of the clothes here come from clothing manufacturers, which means lower prices and more consistent quality.
Address:South Renmin Road Station, XIII Xing Road, Liwan District, Guangzhou
·Baima Wholesale Market - Baima Wholesale Market is the world's largest Guangzhou wholesale market for clothing. There are high and low-priced, high-quality clothes available on the market.
Address: 6 Zhannan Rd, Yue Xiu Qu, Guangzhou, Guang Dong Sheng, China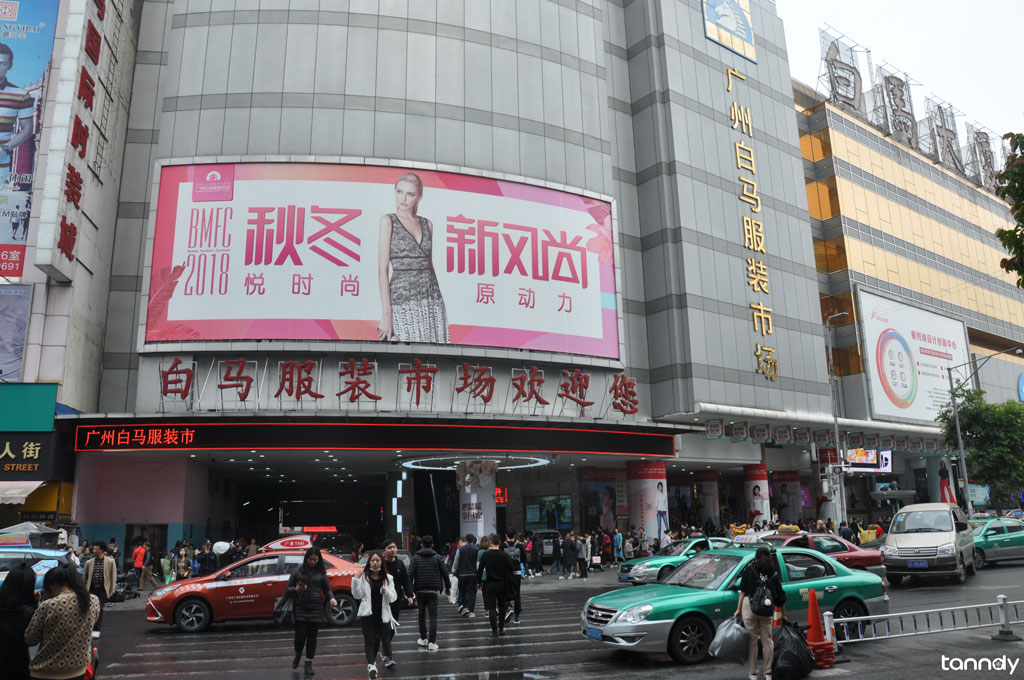 · Zhanxi Clothing Wholesale Market - In the Zhanxi market, almost all shops have connections to factories that produce high-quality clothing.
Address: No.57, Zhanxi Road, Yuexiu District, Guangzhou, Guangdong
· Guangzhou Shahe Clothing Market - Shahe wholesale Market in Guangzhou is China's largest textile distribution center. Its business hours are limited, and it closes at a very early hour.
Address: East Guangyuan Road, Tianhe District, Guangzhou City.
· Huangyuan Wholesale Garment Market -Huangyuan Clothing Market is situated in the most prosperous area of the city. Clothing in this market is marketed as unique, high-quality, and at wholesale rates.
Address: 180 Jiangbin Middle Rd, Yiwu Shi, Jinhua Shi, Zhejiang Sheng, China
· Liuhua Clothing Wholesale Market - The Liuhua Clothing Wholesale Market mainly specializes in wholesale clothing brands. There are men's and women's clothes of the low, medium, and high grades available for purchase.
Address: Zhanqian Rd, Yue Xiu Qu, Guangzhou, Guang Dong Sheng, China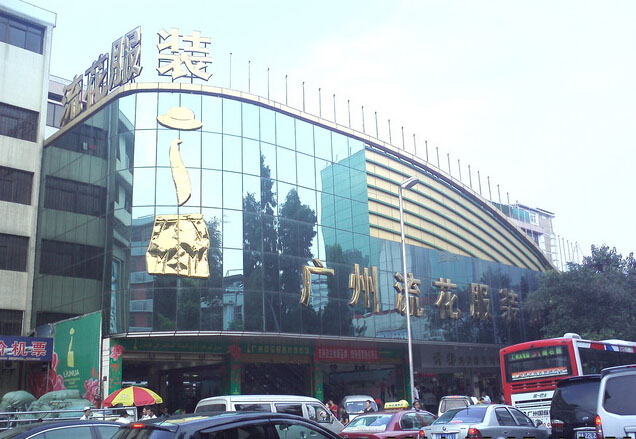 · Tianma Clothing Wholesale Market - This china wholesale market covers an area of 30,000 square meters. There are three floors of shops, down to the first basement floor. They mainly specialize in men's clothing.
Address: 168, San Yuan Li, Yuexiu District, Guangzhou, Guangdong Province, China
· Shijing Clothing Wholesale Market - Shijing Clothing Wholesale Market is among the best wholesale market in Guangzhou, and there are many largest Chinese wholesale markets around it.The market in Guangzhou has the largest circle of surplus goods in China. You can buy top-brand clothes at wholesale price in medium and medium-high quality.
Address: About 10 kilometers north of Guangzhou Railway Station
· Shisanhang Clothes Wholesale Market - Shisanhang Wholesale Market is a fast-fashion china wholesale market that specializes in mid-range brands.The china wholesale clothing market specializes in women's clothing.
Address: Doulangshang Street, Shisanhang Road, Guangzhou, Guangdong
· Century Plaza Wholesale Clothing Trade - Century Plaza Wholesale Clothing Trade is a famous wholesale market. There are many different types of stores here. This is the most complete market, and you can find the best clothing supplier for your online stores.
Address: 24. Century Square, 24 Dongbin Road, Nanshan, Shenzhen
· Nanyang Haiyan Clothing Wholesale market - The wholesale clothes market in Nanyang Haiyan is very crowded. There are too many items in too little space. Since the seller here only sells bulk quantities, you cannot buy a single item to try on.
Address: Jiabin Road, Luohu, Shenzhen, Guangdong, China
Conclusion
Chinese wholesalers have many advantages such as high cost performance, fast response and quick return on small orders. These unique advantages have made China one of the most important markets for global apparel wholesaling. This article gives you a detailed overview of the advantages of Chinese suppliers and how to go about finding these suppliers. This article also gives you a list of over 15 of the best apparel suppliers in China.
FondMart offers women clothing and plus size clothing from the top chinese wholesale clothing suppliers. In addition, you can enjoy the services such as logo customization, private label clothing service and other services. If you have any questions, please contact us. We are sure we can help you to enhance your fashion business!
Top 12 Plus Size Clothing Vendors in China (No MOQ)
Make Money Buying Wholesale Clothing from China
Importing Wholesale Clothing from China to the USA: 15 Easy Steps in 2022
20 Remarkable Plus Size Wholesale Clothing Vendors (2022)
Subscribe for latest update
We will keep you updated with FondMart's style news.
Subscribe